JA Company Program - After School (Locally Developed)
This program is administered by JA of Greater Boston
Implementation:
Classroom Based
Pillars of Student Success
Entrepreneurship
High Entrepreneurship
Work Readiness
High Work Readiness
Financial Literacy
Moderate Financial Literacy
Program Overview
The JA Company Program unlocks the innate ability in students to solve a problem or fill a need in their community through an entrepreneurial spirit.
The program is available for both in-school or after-school implementation, and may be completed during one-semester or throughout an entire school year. Two implementation options are available: 13 two-hour meetings or 26 one-hour meetings focused on the Company Ops.
Company Ops is that portion of the meeting during which students build and manage their business. This usually will take the majority of the meeting time.
Deeper Dives are optional activities or suggestions on how to extend the meeting topic. Students work individually or in groups.
Program Basics
Includes a series of 13 two-hour meetings or 26 one-hour meetings recommended for high school students.
Program delivered online to students through the JA Learning Platform.
Introduces students to the key elements involved in organizing and operating a business, while empowering them to solve problems and address local needs through the entrepreneurial spirit.
Meeting-specific, student-friendly materials and resources are presented to increase student interaction and emphasize JA's experiential approach to learning.
Correlates well to state social studies, English, and math standards, as well as the Common Core State Standards in English/language arts and mathematics.
Program Concepts
Annual report, Business plan, Capitalization, Company structure, Entrepreneurial facts, myths, and traits, Financial tools, Launch the company, Leadership, Liquidate, Marketing, Personal action plan, Pitch, Product development process, Product and service evaluation, Quality control, Sales techniques, Supply chain, SWOT analysis
Skills Students Learn
Accountability
Creativity
Critical thinking
Collaboration
Decision making
Idea development
Leadership
Product evaluation
Public speaking
Sales
Self-assessment
Synthesizing and evaluating information
Teamwork
Alignment with State and National Standards
Request a Presenter to Teach Curriculum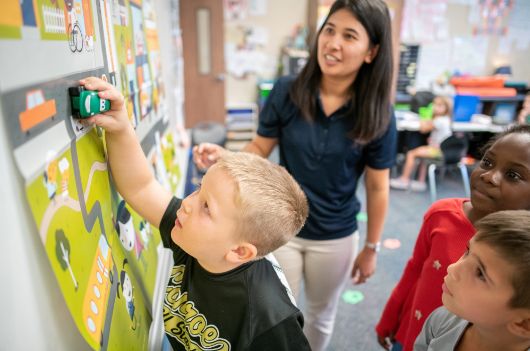 Junior Achievement lessons are delivered by volunteers from the community. These presenters are prepared by JA to facilitate engaging learning activities that focus on financial literacy, work and career readiness, and entrepreneurship. This results in an enriched learning experience that helps students make the connection between what they learn in school and the world outside the classroom.
Steps to Request a Presenter

1) Request Info
Once you've decided to have a JA volunteer in your classroom, fill out the form on this website. You will receive information on next steps.
2) Pick Schedule
You will be able to coordinate a schedule that works for your class either online or in conjunction with a JA representative.
3) Meet Presenter
Once a volunteer is identified for your class, JA will connect you with the presenter to discuss roles, expectations, and logistics.
4) Empower Students with Standards-Based Education
After all details are in place, the JA volunteer will deliver lessons to your students either virtually or in-person.
We use cookies to provide you a personalized experience. How we do this is by analyzing user behavior on our site and sharing data with our advertising and analytics partners. You consent to our cookie policy if you continue to use this website.