JA Skills to Achieve Program™ (Locally Developed)

This program is administered by JA of Greater Boston
Implementation:
JA Capstone
Pillars of Student Success
Work Readiness
High Work Readiness
Financial Literacy
Moderate Financial Literacy
Entrepreneurship
Minimal Entrepreneurship
JA Skills to Achieve offers students a unique opportunity: a visit to a professional work environment and insights into how to find and keep a fulfilling career.
Students participating in the program will acquire and apply the skills needed in demanding and ever-changing workplaces. Students will be able to recognize career clusters and potential job positions; understand the importance of researching the requirements needed to earn a position; and develop job-hunting tools, such as networking, resumes, and interviewing skills.
JA Skills to Achieve is recommended for high school students. The program is composed of three 45-minute classroom sessions and the job shadow visit, which usually is four to five hours in length.
Materials are downloadable and include detailed session plans for the site-coordinator, students, and teacher. The program also provides instructions to allow students to begin using Kuder Navigator, an online educational and career planning system designed primarily for today's middle school and high school students.
JA programs correlate to state social studies, English, and mathematics standards, and to Common Core State Standards.
Program Concepts
Career assessment, Career clusters, Career planning, Elevator pitch, Infographic profile, Interests, Job hunting, Job interview, Job outlook, Networking, Professional and ethical behaviors, Resume, Skills, Thank you notes, Work priorities
Skills Students Learn
Analyze and apply data
Business communication
Creativity and innovation
Follow written instructions
Formulate answers from personal experience
Identify behaviors
Interviewing
Oral and written communication
Organize information
Present information
Read a variety of sources for information
Role-play
Self-assessment
Technical writing
Work collaboratively
Alignment with State and National Standards
Request a Presenter to Teach Curriculum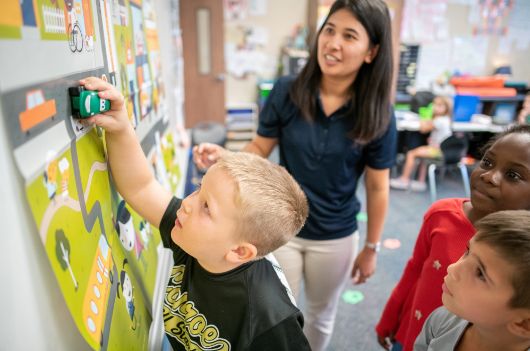 Junior Achievement lessons are delivered by volunteers from the community. These presenters are prepared by JA to facilitate engaging learning activities that focus on financial literacy, work and career readiness, and entrepreneurship. This results in an enriched learning experience that helps students make the connection between what they learn in school and the world outside the classroom.
Steps to Request a Presenter

1) Request Info
Once you've decided to have a JA volunteer in your classroom, fill out the form on this website. You will receive information on next steps.
2) Pick Schedule
You will be able to coordinate a schedule that works for your class either online or in conjunction with a JA representative.
3) Meet Presenter
Once a volunteer is identified for your class, JA will connect you with the presenter to discuss roles, expectations, and logistics.
4) Empower Students with Standards-Based Education
After all details are in place, the JA volunteer will deliver lessons to your students either virtually or in-person.
We use cookies to provide you a personalized experience. How we do this is by analyzing user behavior on our site and sharing data with our advertising and analytics partners. You consent to our cookie policy if you continue to use this website.